Chicken Apple Potstickers are amazing sweet and savory bites, loaded with chicken, caramelized onions and apples, honey and soy sauce, they are the perfect protein for any stir fry!  This is a meal prep freezer recipe to stock 1 to 2 dinners away for a quick and easy weeknight dinner, just add veggies and rice!
At the Farmer's Market
Asian food has always been a challenge for me.  It's delicious, but I've never been the greatest at cooking it.  So I've stuck to basic peanut sauces and never branched out much beyond rice and soy sauce.
Until last weekend at the farmer's market.  A girl handed me a sample of a "caramelized pork and butternut squash" Potsticker that was simply amazing.  I convinced her that my one-year-old needed his own sample and "helped" him eat that one too.  I quickly forked over the $11 for a dozen of these homemade little beauties, and came home to saute up some veggies and brown rice.
Now the beauty of this girl's potstickers…she was selling them frozen.  That changes everything!  For a dollar a bite I could go broke buying these things, but if she sells them frozen, I can make big batches and freeze them myself!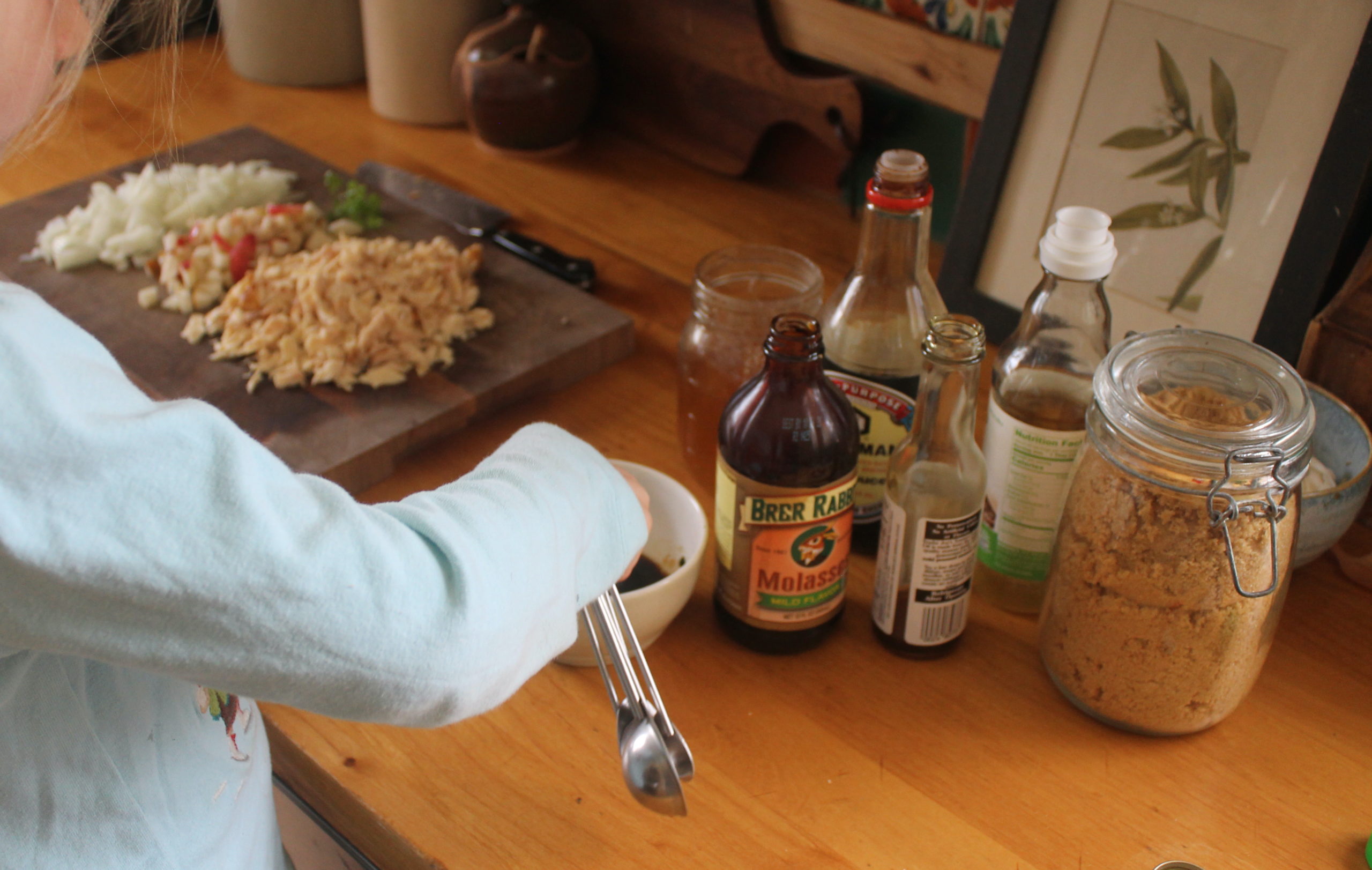 (On a side note, let me save you 20 minutes at the grocery store, potsticker wrappers are not in the Asian food aisle, they are refrigerated in the produce area by the herbs.  A pack costs a couple bucks).
Chicken Apple Potstickers were born.  I will try to copy her pork and squash combination someday, but this time I made them with what was in my fridge, leftover rotisserie chicken and way too many apples from a good friend's apple tree in Willmar, MN.  They turned out amazing, the sweet and the savory just melts in your mouth!
Kids in the Kitchen
Now that my one-year-old taste tester from the farmer's market is 7, he and his little sister love helping me in the kitchen.  Potstickers is the perfect hands on activity for them!  We spread them all out on the dinning room table, they love folding them over and smashing the edges together.  This recipe is one for the weekend and kids can help with any phase along the way…
Make the Filling…they can help measure the sauce ingredients
Potsticker Assembly line…they love to assemble and seal the edges
Making Dinner…they can chop veggies
Each phase can be done separately and kept in the fridge until ready for the next step.  Perfect for kids coming and going who like to pull up a chair!
Potsticker Freezer Prep Math
If you are thinking, homemade potstickers, who has time for that??….This is a freezer meal prep recipe, worth every bit of your time!  One package of wrappers makes 52 of these delicious little morsels for only a few dollars.  This is somewhere between 2 and 3 dinner's worth for my family.  When it was just mom and dad and one little toddler, it was 3, now that we have 2 growing elementary kids, it's 2.  Here's the breakdown…
If you are dividing the 52 into 3 meals, that's 17 potstickers per meal…(5 to 6 each for adults, 2 to 3 each for kids).  If you are dividing the 52 into 2 meals, that's 26 per meal…(5 to 6 each for adults, 3 to 4 each for kids, plus leftovers for lunch).  You can double the recipe or adjust the amounts for your family size.
Stock your freezer and you will thank yourself when you have a few easy weeknight dinners ready to just add veggies and rice.  Asian night at our house just got a bit easier!
More Family Favorite Dinners!
Chicken Apple Potstickers
Chicken Apple Potstickers are a meal prep freezer recipe that makes 2 to 3 dinners for an easy stir fry night! Loaded with chicken, caramelized onions and apples, honey and soy sauce, they are the perfect tasty bites to top rice and veggies!
Ingredients
1

small

onion

diced small (oil, salt and pepper)

1

apple

diced small

3

cloves

garlic

minced

2

c

cooked chicken

finely chopped

1

t

cilantro

minced (optional)

1

T

soy sauce

1

t

brown sugar

1

t

sesame oil

1

t

rice vinegar

1

t

molasses

1

t

honey

12

oz

1 package potsticker or wonton wrappers

(round or square are fine-about 52, amount may vary by brand)

rice, soy sauce and stir fry vegetables (broccoli, bell pepper, celery, onion, pea pods, shredded carrot or cabbage)
Instructions
Make the Filling
In a large fry pan over medium low heat, add 1 t of olive oil and caramelize the onion, season with a pinch of salt and pepper and cook stirring occasionally until golden brown in color, about 20 minutes. Add the chopped apple and continue to cook 10 minutes more.

Add all other ingredients to the pan (except potsticker wrappers) and stir until well combined, turn off heat. (The filling can be stored in the fridge until ready to assemble the potstickers, up to a day in advance).
Assemble the Potstickers
Create an assembly line, lay out 6 or so potsticker wrappers, place a small spoonful of the filling in the middle, dab water around the edge with your finger and fold over in half. Press tightly with fingers to seal. Place potstickers on a baking sheet lined with parchment paper and store in the fridge to use for dinner, or freeze the sheet pan then transfer to a container for later use (I split the package of 52 into 3 dinners, 17 to 18 per night for our family of mom, dad, and two little kids; OR into 2 dinners, 26 per night with plenty leftover for lunch; adjust for your family size).
Cook the Potstickers
When ready to cook (either right away or from frozen-method is the same), in a large fry pan over medium heat, add 1T olive oil. Set potstickers in oil and fry until golden brown, about 1 minute per side. Add ¼ cup water, quickly cover and steam for 1 minute until no water remains (it will hiss loudly!).  Loosen from pan with spatula, they will stick to the pot!

Serve potstickers over rice with soy sauce and sautéed vegetables.

***Note: if your numbers don't come out just right...if you end up with too much filling, you can throw it in with the stir fry or put it in an Asian style salad or deli wrap for lunch the next day.  If you end up with too many wrappers, you can freeze them, or fill them with banana slices and a couple chocolate chips or chopped candy bars, cook them as instructed above, and sprinkle with cinnamon sugar--kid dessert!